The Burlesque Hall of Fame's School of Striptease offers classes for the hobbyist, the novice, and established performers of all levels and body types. Learn about the art of the striptease from the industry's top performers of today and yesteryear!
Schedule
This is an 8 week course designed for anyone who would like to try their hand at this true American artform! Whether you just started performing or have yet to set foot onstage – This class is for you! Tap into the empowerment that can come from stripping away all inhibitions and taking control of your own autonomy.
This course is currently in session through October 23rd. This course will be offered again. Please check back for 2020 schedule.
Weekly Classes
The School of Striptease will continue to offer weekly drop-in classes. Check back for class schedule.
Bachelorette Party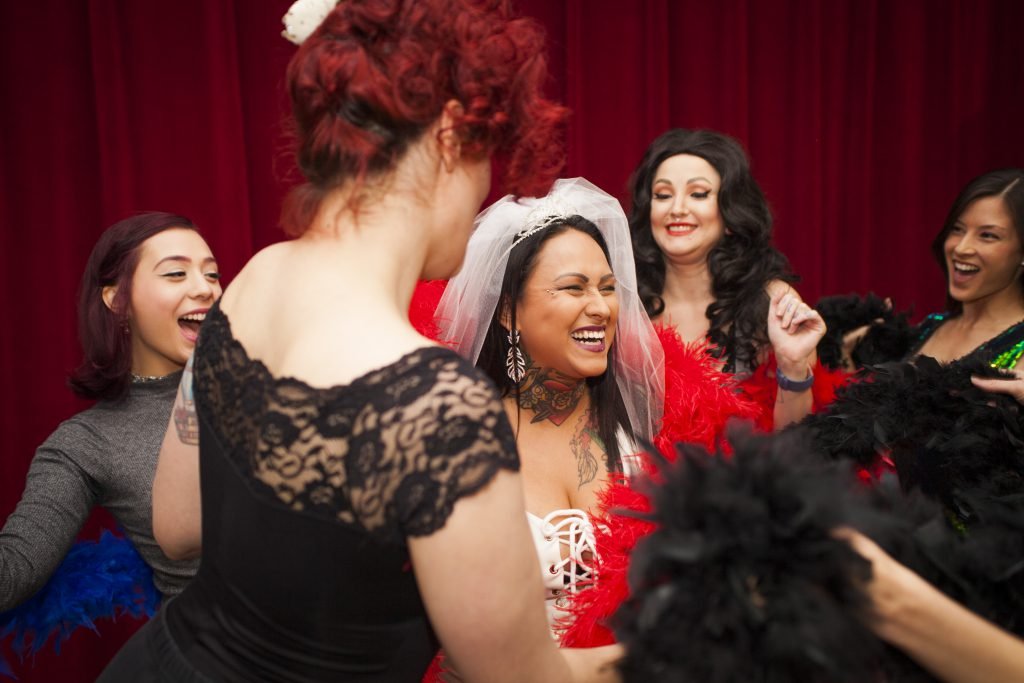 Book your bachelorette or hen party with the Burlesque Hall of Fame. Learn Burlesque basics while celebrating your or your loved one's upcoming nuptials! Complementary gift for the bride or guest of honor. Admission to the museum included for day of party.  To book a bachelorette party, contact us.

Sunday, October 13th 4pm-5:30pm
Peer Review is an opportunity for performers to receive valuable constructive criticism on their acts. A performer's act may be presented in any stage of readiness inside the museum's studio. Performers will be given a chance to explain their act and ask for specific or general feedback from a panel of critics. Message buttercup@burlesquehall.com in advance to reserve your spot as a peer presenter or a peer critic. There is no admission charge for this event. $5 suggested donation.
---
Classes
Burlesque Basics – $5 First Friday, 15 min
Learn signature burlesque moves used by stars of the past and present! This 15 minute introductory class, only available during First Fridays, will show you how to shimmy, bump & grind in our Bawdy Shop Studio.
Burlesque 101 – $40
This class is geared towards first timers and those wishing to touch up on burlesque basics. Learn a brief history of burlesque and practice classic striptease moves such as working with a boa, glove removal, the "bump & grind" and the shimmy! Gloves and boas provided for use in class or bring your own.
Bump & Grind Master Class – $40
Work up a sweat while learning to seduce your audience with the "Bump & Grind!" Showcase your unique physicality with the suggestive movements of 1950's Burlesque stars!
Tassel Twirling 101 – $40
Learn the ultimate burlesque gimmick: the tassel twirl! Bring your own pasties or buy in house.
Assel Twirling – $40
A crowd favorite in neo-burlesque shows is the art of "assel twirling." Assels are pasties with tassels placed on the buttocks! Class includes learning how to apply and twirl assels! Assels provided or you may bring your own. Please dress comfortably. Wear booty shorts or fishnets with a thong. Heels optional."
Parade, Pose and Peel – $40
This all levels class will teach you how to disrobe like a pro. Learn how to strut like a showgirl, create flattering body lines through various poses, and remove garments with ease and flair.
– What to wear/bring: Please wear form-fitting work-out clothing. Bring a button down shirt or robe that ties. High heels are optional.
Bellydance for Burlesque – $40
Ever since Little Egypt saved the Chicago World's Fair in 1893 with her danse du ventre, belly dancing has been associated with burlesque. Using belly dance techniques this class focuses on body isolation to help students enhance their basic burlesque movements. Class is open to students of all experience and ability levels.
-Please wear comfortable clothes for class. Shimmy belts will be provided or you may bring your own. 
FloorPlay – $40
Get down and dirty–and get back up again! Learn erotic floorwork moves and transitions, including graceful and fierce ways to get down to and back up from the floor.
Adding floorwork to your routines creates new visual levels and can add sensuality to any act!
-Kneepads and yoga mats are recommended.
Shimmy & Shake – $40
This class is exclusively taught by burlesque legend Dusty Summers! Dusty is known for incorporating magic into her routines, including the magic of her spectacular shimmies and shakes. She'll warm up your shoulders and knees and get you ready to rumble! She'll guide you through techniques to make different parts of your body vibrate and bounce. She'll show you muscle isolations and tricks to draw the audience's eye wherever you like. You'll discover how to isolate the shimmy to your chest, your derriere, and how to make your whole body quiver and quake.
Barre for Burlesque – $40
Barre for Burlesque is a fun, dynamic, whole-body work out that combines elements of the popular barre fitness style with elements of modern and contemporary burlesque. The class is designed to help participants tone muscles, increase flexibility, and expand their movement vocabulary. All levels are welcome to join in the fun!
We reserve the right to refuse service to anyone. 
---
Meet the Instructors
Bettina May
Bettina May is a Las Vegas-based, Canadian-born burlesque performer, photographer, pin-up model, musician and author. She is the first international performer to get an American green card based on her outstanding ability in burlesque. She started her career in 2003, performing and teaching around the world, and went full-time in 2009 when she immigrated to NYC. She has been featured on The Real Housewives of NYC, NBC News, CBS, FOX News and she has also performed for Brooke Shields, Jude Law and many more. An expert in vintage style, she wrote the how-to book Everyday Bombshell and released two DVDs.
Aya Fontaine
Fascinated with the golden era of glamour and classic Las Vegas showgirl productions, Aya Fontaine fell in love with the art of burlesque shortly after moving to Las Vegas. Modeling her performance style after the vintage vixens of the 1950s, she has graced stages all over the United States billed as "The Buxom Beauty of Burlesque" for her ample assets. You can catch her strip teasing all over Las Vegas.
Darby Fox
Darby has been performing as a stripteaser and emcee on burlesque stages since 2011. Drawing from her studies as a trained historian, Darby integrates the naughty playfulness and comedy, that has historically always been a part of burlesque, into her acts. A native to the City of Sin, Darby is also a model specializing in pin-up, bellydancing, and is a life-long yogi. She has been a pose and performance coach since 2013. Using her years of yoga and modeling experience, Darby breaks down body movements for any mobility level, so that anyone can create beautiful shapes with their body on stage or in front of a camera. She is currently the collection assistant at The Burlesque Hall of Fame.
Buttercup
Buttercup is a burlesque performer, instructor, and costumer in Las Vegas, Nevada. She hails from New York City where she studied at The American Academy of Dramatic Arts. Along with her skilled voice and movement, Buttercup incorporates traditional burlesque elements into her routines. Her fan-dance, bump and grind and tassel and assel twirling create unforgettable acts which embody beauty and eroticism with light-hearted flair. Buttercup has been a featured entertainer in burlesque, comedy and variety shows in Las Vegas and across the country. She is currently the Program Assistant at The Burlesque Hall of Fame.
Molly Boom Boom
Molly Boom Boom is delighted to be teaching for the Burlesque Hall of Fame and promoting their mission. She is a veteran entertainer who teaches Barre fitness in some of Las Vegas' most exclusive gyms by day, and performs all over Las Vegas and California by night. In 2018 Molly Boom Boom was awarded the Nevada Burlypicks Champion and went on to win "Most Raunchy" at Burlypicks International. She is a truly diverse performer with acts ranging from silly to downright smoking. You can see Molly Boom Boom every weekend in
Comedy and Dolls
on Fremont St.
Dusty Summers
An active dancer, magician and emcee, Dusty Summers ("Las Vegas' Only Nude Magician") has appeared all over the United States and Canada throughout her over twenty-four years as anentertainer. She is the author of three books:
The Lady is a Stripper
,
How to be a Professional Stripper
and
The Golden G-String
and previously wrote a column called "The Magical World of Burlesque" for the
Vegas Visitor
magazine.